The Fraser MacPherson Jazz Fund is dedicated to offering financial assistance and educational opportunities for jazz students in British Columbia. In addition to providing several yearly scholarships to BC's most promising young jazz instrumentalists, the FMJF hosts public, free admission workshops by some of the world's most renown jazz artists.
History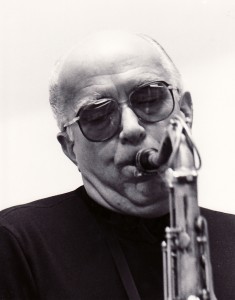 In the summer of 1993, Pacific Music Industry Association (PMIA) decided to initiate a music scholarship fund. The Board of Directors chose to create that fund in the name of BC's great musician and cultural ambassador, Fraser MacPherson. Delegates from the Board informed Fraser MacPherson of our wish, but already the great saxophonist was in poor health, suffering from cancer.
On September 28, 1993, Fraser MacPherson passed away at age 65. Born in St. Boniface, Manitoba, and raised in Victoria, BC, MacPherson had his Musicians Union card by the time he was 16. A first-call studio musician and lyrical improviser, Fraser became known in Vancouver as resident band leader at the Palomar and Cave nightclubs where he worked with many world renown musicians including Tony Bennett and Ella Fitzgerald.
He toured the Soviet Union five times, the last in 1989. In 1982 he won a JUNO for Best Jazz Recording for his duet with Oliver Gannon, his long-time musical colleague, titled I Didn't Know About You — an apropos title for a man all described as private and enigmatic. At age 60 he was named to the Order of Canada.
When he passed away in September of 1993, the Vancouver Musicians' Association noted that in lieu of flowers, donations would be accepted to the Fraser MacPherson Music Scholarship Fund. The response was overwhelming.
As with all charities, continual fundraising is required. Since 1995 the society has disbursed between two and eight scholarships per year. In 2005, in a climate of highly challenging fundraising, the Society decided to concentrate its efforts on jazz students specifically. Along with annual scholarships, a large part of the organizations mission is to host workshops by world class jazz artists, providing valuable educational opportunities for jazz students at any level, free of charge.
2016/2017 FMJF Board of Directors:
Len Kay – President
Dennis Esson – Treasurer
Fred Stride – Scholarship Coordinator
Jared Burrows – Past-President
James Danderfer – Director
Guy MacPherson – Director
Alan Matheson – Director
Sharon Minemoto – Director
Brad Muirhead – Director
Julia Nolan – Director
Chris Startup – Director
Cory Weeds – Director
Our thanks to the following for their support: Vancouver Musicians' Association, The Coastal Jazz and Blues Society, vancouverjazz.com, Long and McQuade Musical Instruments, Northwest Musical Services